The breakthrough of iGaming and online casino with crypto payment services and blockchain technology.
The Worldwide gambling industry has been booming. Recent analysis shows that the World's regulated gambling revenues, in 2019, are predicted to reach $468 billion.
But, in the last few years, this industry has undergone extensive growth. With growing internet services, a new trend of online gambling and betting has emerged in the past year. Out of the regulated billions (in 2019), 11% are accounted for the iGaming sector or online gambling.
Modern technological solutions are taking up new space in the online gambling market to improve user experience. Online gambling casino has found its perfect partner in crypto and blockchain technology
The Rise of Crypto in Casino and Igaming
Bitcoin created ripples in the finance sector with its decentralized structure. The godfather of cryptocurrencies, which also recently marked its 10th year anniversary has given a new dimension to the crypto sphere. The crypto market, in 2019, hosts almost 2000 cryptocurrencies.
Organizations like Facebook have started to explore the potential of the crypto world. From Microsoft to Expedia- companies have started accepting bitcoin payments. Henceforth, the applications and use-cases of blockchain-backed- cryptocurrencies have also increased tremendously in the last few years. Cryptocurrencies are now used to acquire all sorts of goods and services. The rise in crypto adoption and a subsequent rise in crypto-based payment services have also opened up new marketplaces
One of the marketplaces gaining huge momentum is the online gambling and casino industry. According to this research, cryptocurrencies used for gambling have a market capitalization of more than $100 million. In fact, according to this estimate, back in 2013, almost half of the bitcoin transactions were evolving from online gambling. The highlights that cryptocurrencies bring to the table have found its home in the online gambling sector.
In this article, we are going to explore the fundamental benefits of cryptocurrency in correlation to the gambling sector. Also, how blockchain technology has enabled a fair and secure mode for the online gaming and gambling industry.
Why crypto for online casino?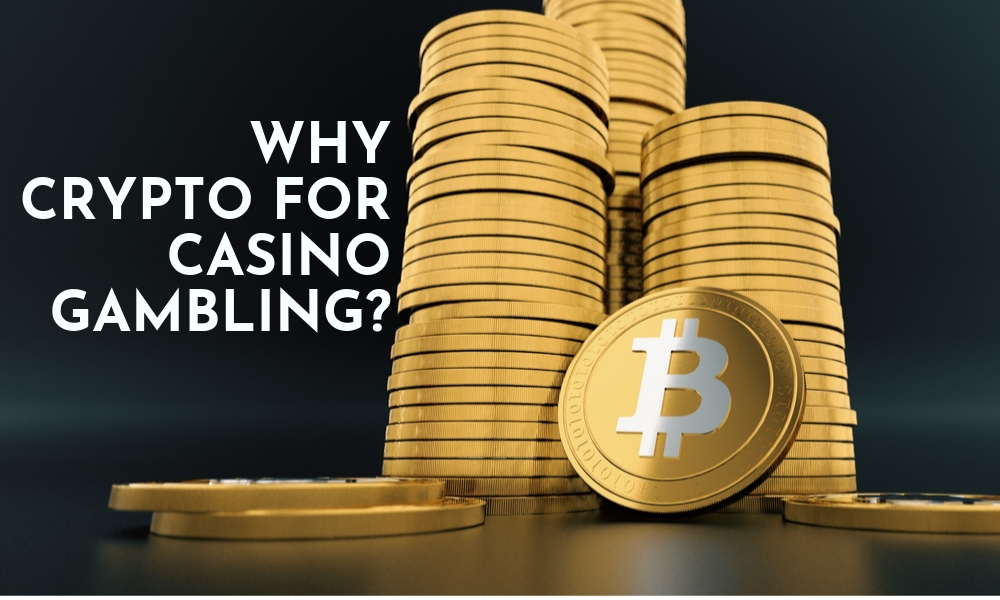 Online casinos, in combination, with cryptocurrencies are like two queens of diamonds (a perfect pair) in a game of blackjack. Cryptocurrencies compliment online casinos in such an intricated fashion that many of the industry's issues are solved in a single strike. On top of this, blockchain technology, with cryptographic proof, provides a synergized solution between the operators and users of the sector.
Let's dive deep into the key characteristics of cryptocurrencies complementing the iGaming and casino industry.
Ease of Transactions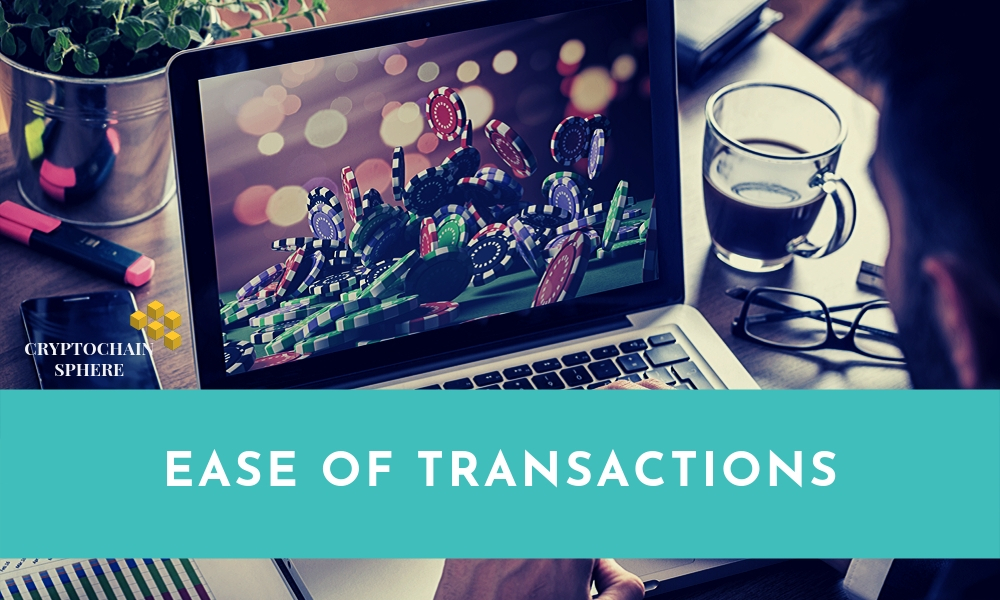 First and foremost, banks and financial institutions have always been skeptical while dealing with online gambling. Besides, our traditional gambling payouts are time-consuming. It takes days or even weeks for the payouts to reach the user's account.
Cryptocurrencies offer a fast and easy way of transferring money with digital coins. Moreover, governments or banks do not have any control over cryptocurrency payments. Winnings of a player aren't blocked or held by the banks. The transactions are instantaneous, in a matter of minutes. This further elevates the experience of a user.
Transparency and Privacy
Our government regulated methods require to validate and confirm our identities in order to engage in any sort of gambling or betting. Many times, users don't want to reveal complete identities in online gaming. Blockchain technology allows us a certain degree of anonymity to the user while keeping the personal identity hidden across the platform.
Additionally, blockchain allows transparency and reliability of the transactions on the ledger. Even though true identities are not revealed, the transaction history of the user's wallet address remains transparent. The transparency of public ledger also helps to prevent the claim of fraudulent chargebacks or refunds.
Negligible Fee/ Inexpensive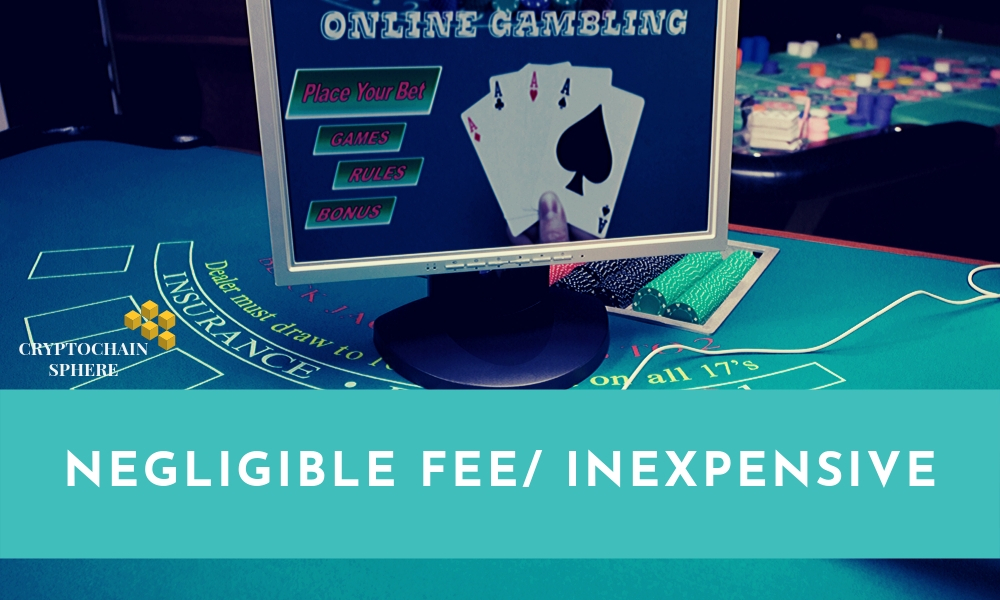 The traditional sites engaging in online gambling are regulated by financial institutions. High fees coupled with commissions by the payment system lead to the extensive imposition of fees on users. The expensive gambling becomes all the more costly.
One of the main perks of using cryptocurrencies for any use case is the low or almost negligible transfer fees for transactions. Blockchain allows direct transactions without the need for any intermediary to process or monitor. Hence, the transaction fees are automatically decreased as opposed to conventional gambling.
More importantly, there are no limitations imposed on the withdrawal of funds or account replenishments. The funds can be withdrawn round-the-clock without any time or place constraints.
Security
One of the hindering issues with online gaming and gambling is that people do not trust these services. Users are extremely wary of being cheated. But, blockchain has changed this perception by offering its trustless protocol.
Blockchain technology provides a solution through which a user can verify independent results. This ensures that the user has not been cheated in any manner. This tool which allows a user to vet the results is known as 'Provably fair'. Prior to blockchain, a player had no option but to trust that the online casino is generating results without altering. Blockchain offers security with its cryptographic proof that allows the player to verify the fairness of the game.
With such advantages of crypto and blockchain in online gambling, many new services like Coinspaid have also started offering the easy use of cryptocurrency for iGaming and online gambling
Coinspaid
Established in 2014, Coinspaid is the brainchild of a team that developed the World's first provably fair online casino. With more than 100 iGaming companies in its bag, it has excelled in the field of online casinos, gambling, and betting. The easy interface and fast pace of transactions have attracted major casino players such as Bitstarz and Betchain casinos.
In addition to this, the platform also uses a tool such as 'Provably Fair' in order to conduct honest practices and fair games. The handy and convenient panel along with round the clock support has made Coinspaid-a leading force in crypto-related service platform. Another service that makes the platform an interesting choice is that it offers access to more than 140 cryptocurrencies. Additionally, it provides an auto converter of cryptocurrencies for merchants.
Fair Future of Online Casino with Crypto and Blockchain
The popularity of online gambling has reached new heights. Simultaneously, the innovations in blockchain and crypto have elevated the experience for users. It is true that cryptocurrencies and blockchain have made the World of online gambling fast, fair, and secure. Importantly, the facilities provided by crypto-related gambling services such as coinspaid have acted as a bridge between online gaming and cryptocurrencies.